Overview
Nanomaterials, graphene, 2D materials, zeolites, novel polymers, polymer composites, DNA self-assembly process, polymer interfaces and surfaces as well as polymer/ cereamic membranes. In-depth studies are being carried out in: nanomaterial synthesis and characterization, rheology, non-Newtonian flow, heat and mass transport, and process control associated with the injection-molding process.
Highlight
HKUST Develops New Multifunctional Hydrogel for Odor and Microbial Control in Hong Kong's Drainage and Flushing Systems
19 May 2022
Developed by a research team led by Prof.
King Lun YEUNG
, the multifunctional hydrogel can be tailored to treat different odor problems and microbial contaminations in harsh environment in an efficient and safe manner.
Published on 19 May 2022 by HKUST News
---
The leading project by Prof. King Lun YEUNG has received funding and made significant impacts in alleviating the viral transmission of the pandemic to the local community
28 Apr 2022
Prof.
King Lun YEUNG
's recent research has been recognised and funded by the Innovation and Technology Fund (ITF), HKSAR to combat the Covid-19 epidemic. The project, developed by Prof. Yeung, has shown that the use of antimicrobial hydrogel for flush toilets has greatly reduced viral transmission of the virus through the sewage system in the local community.
Published on 27 Apr 2022 by The HKSAR government's press release
---
Conceptualisation, Design, and Realisation of Smart Antimicrobial Technologies | Prof. King Lun YEUNG
2 Dec 2021
COVID-19 virus is readily spread by droplets allowing both direct and indirect transmissions resulting in widespread infection. This lecture will introduce smart antimicrobial technologies that provide an innovative approach to prevent the transmission and spread of infectious diseases, thereby safeguarding individuals and the community.
---
HKUST Researchers Develop the World's Strongest Polymer Nanomembrane | Prof. Ping GAO
21 Dec 2020
The team led by Prof. Ping GAO has developed an ultrathin polymer nanofilm, which is not only 25 times stronger than stainless steel with the same mass, but is also extremely transparent, gas-permeable and water-proof with adjustable porous properties, making it suitable for use as wearable devices, medical protection, desalination, electronics, solar cells and many other cutting-edge technologies.
Published on 21 Dec 2020 by HKUST's press release
---
HKUST Develops New Smart Anti-Microbial Coating in the Fight Against COVID-19 | Prof. King Lun YEUNG
11 Mar 2020
Prof. King Lun YEUNG from HKUST's Department of Chemical & Biological Engineering; Prof. Joseph KWAN, Adjunct Professor from the Division of Environment & Sustainability and Mr. Hamilton HUNG, Chief Marketing Officer of HKUST's industrial partner Chiaphua Industries Ltd, have developed a Multilevel Antimicrobial Polymer (MAP-1) coating.
This MAP-1 coating is effective in killing viruses, bacteria and even hard-to-kill spores. MAP1 can inactivate* up to 99.9 per cent of highly-infectious viruses such as measles, mumps and rubella, and 99.99 per cent of the surrogate feline calicivirus (FCV) - a gold standard for disinfection efficiency and is more resistant than coronaviruses such as the one responsible for COVID-19 epidemic.
Published on 11 Mar 2020 by HKUST's press release
Faculty members in this research area
Overview
Molecular-level design and engineering of nature-derived and artificial materials for regenerative medicine, drug deliveries and therapeutics, novel biosensing/bioimaging strategies and diagnostic platform for point of care, synthetic and systems biology, omics technology and bioinformatics.
Highlight
The Need and Rising Opportunities for Talents in the Biotech Industry amid the Pandemic | Prof. Terence Tsz Wai WONG
3 May 2022
Prof. Terence Tsz Wai WONG from the Department of Chemical & Biological Engineering (CBE) at the Hong Kong University of Science and Technology (HKUST) founded the company "PhoMedics" two years ago.
In 2020, he and his team have successfully developed the cutting-edge imaging technology, the "Computational High-Throughput Autofluorescence Microscopy by Pattern Illumination" (CHAMP) technology, and received the Gold Award in HKUST-SINO One Million Dollar Entrepreneurship Competition.
Published on Apr 29, 2022 by Mingpao.com
---
Big Data Leads to Breakthroughs in Brain Cancer Research | Prof. Jiguang WANG
14 Dec 2018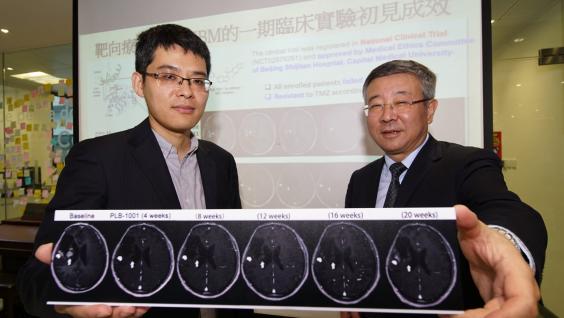 Prof. Jiguang WANG (Division of Life Science/CBE) and Prof Jiang Tao from Beijing Tiantan hospital have announced their research break-through using big-data information to guide the treatment of patients of severe brain cancer..
In a world first, they have discovered a type of gene mutation as the major culprit behind the aggressive progression of a type of brain cancer called Secondary Glioblastoma (sGBM). This discovery has guided a new treatment that has shown signs of success in a three-month trial on sGBM patients.
"Those who took part in the research are chemo-resistant patients and have not responded to standard form of medication, so to see such a positive response from them is quite a success," Prof. Wang said.
While most patients in the trial eventually die, he said more studies are needed to see if the drug can be used in conjunction with other drugs to have longer lasting results.
Published on Dec 3, 2018 by HKUST Press Releases
---
Teaching old drugs new tricks with innovative delivery methods | Prof. Ying CHAU
7 Nov 2018
A range of age-related eye conditions can be tackled with anti-VEGF drugs, which reduce blood vessel formation in the eye – but these drugs remain prohibitively expensive. Chau Ying's lab at Hong Kong University of Science and Technology is developing a gel that can reduce the frequency with which the drugs have to be injected, promising to make them more affordable and accessible.
Published on Nov 7, 2018 by World Economic Forum on YouTube
Faculty members in this research area
Overview
Modelling, monitoring, design, control and optimization of chemical products and processes with applications in chemical, energy, biotechnology and pharmaceutical industries; Batch and continuous manufacturing systems; Molecular systems and micro/nano-devices and processes; Big data and artificial intelligence to support smart manufacturing.
Faculty members in this research area
Overview
Energy storage and conversion technologies including fuel cells, advanced batteries, solar cells, electrolyzers, and supercapacitors. Main research activities include optimization of energy systems, development of advanced materials and critical components, understanding reaction mechanisms, and modelling/ simulation.
Air pollution formation and abatement, deodorization of indoor air, catalytic and advanced oxidation, electrocoagulation and electrooxidation, advanced methods for wastewater treatment, hazardous wastes and micro-contamination, waste minimization and cleaner technologies.
Highlight
Research Grants Council Public Lecture Series - Societal Needs for Innovation in Environmental Health Technology | Prof. King Lun YEUNG
16 Dec 2021
The Smart materials developed by the HKUST team can response intelligently to environmental cues to mitigate pollutions and microbial contamination. This lecture will introduce a family of smart antimicrobial that can disinfect air, water, and object surfaces of harmful bacteria and viruses to prevent infections. In addition, the speakers will explain how deodorising technologies can improve air quality in Hong Kong drainage network, and how anti-biofouling coatings can protect water pipes from corrosion, prevents microbial contamination, and improve energy efficiency.
Faculty members in this research area